Application Modernization:
We help business leaders understand, envision and realize business transformation with our unique focus on mobility. From developing new revenue streams to recalibrating organizational structure and developing a customer-centric outlook, we drive the transformation needed to thrive in today's digital age. Due to the advancements of applications and modern-day solutions, organizations now have the ability to upgrade traditional office methods and increase productivity and employee satisfaction. KRG enables better and faster access to information and decision-making data regardless of location or device.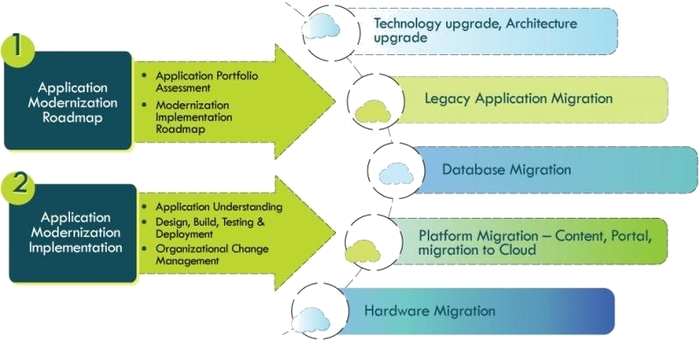 Application Development & Maintenance:
Today's technology trends and consumer expectations have increased the cost and complexity of application services. Our expertise spans the entire application lifecycle to elevate your digital future. Delivering feature-rich, secure and flexible business applications that perform as expected – everywhere, every time.
KRG as a custom web application development company can help you meet your business objectives and enhance the visibility and conversion of your digital web estate with its superior market understanding and unique perspective on web development solutions for the enterprise. Get the most of the web by creating smarter, faster and next-gen web experiences. We have expertise in building systems that bring data and process access to collaborators via websites, portals and content management systems. We bootstrap the development processes using our accelerators and solution frameworks in languages such as Java, C#, Python, PHP, Ruby, and JavaScript.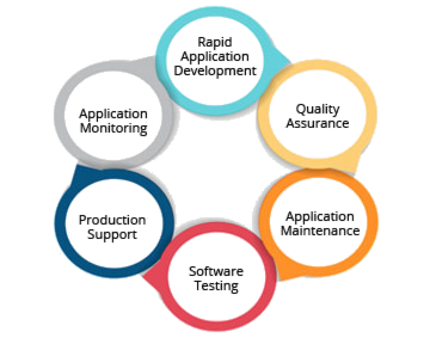 Enterprise Architecture Services:
Enterprises over the globe have been impacted by the digital revolution that has taken the business world by storm. To stay competitive in this changing environment, it's become imperative for organizations to evolve their business processes and adapt to newer technologies like SMAC- Social, Mobile, Analytics & Cloud. Businesses across industries ranging from startups to Fortune 100 understand the tremendous business value digitization brings to their enterprise.
Social Media - Digital enablement across all social channels
Analytics & Big Data – Real-time customer engagement and analysis
Mobile – Enterprise data access on the go
Cloud – Achieve operational efficiency and scalability
Application Modernization
System Integration Services:
Modern web, cloud, mobility, IoT and other emerging technologies have created the need to evolve and continuously improve services and applications at an advanced rate. Our solutions apply business process analysis and user requirement assessments in an effort to align information technology with business initiatives. Allowing you to drive efficiencies of scale and accelerate growth.KRG not only leverages legacy data, but also integrates newer structured,unstructured data sources to bring the data into a form easily understood by stakeholders — enabling them to make more intelligent business decisions.