KRG Cloud Services offer innovative solutions on public, private as well as the hybrid cloud. Our services enable enterprises to leverage diverse options available in the cloud and realize its full potential. We help the enterprise and IT to shift their focus from maintenance and operations to innovation, help enhance business agility and sustain a competitive edge. Our offerings provide comprehensive support in managing and optimizing the cloud platforms in an efficient manner.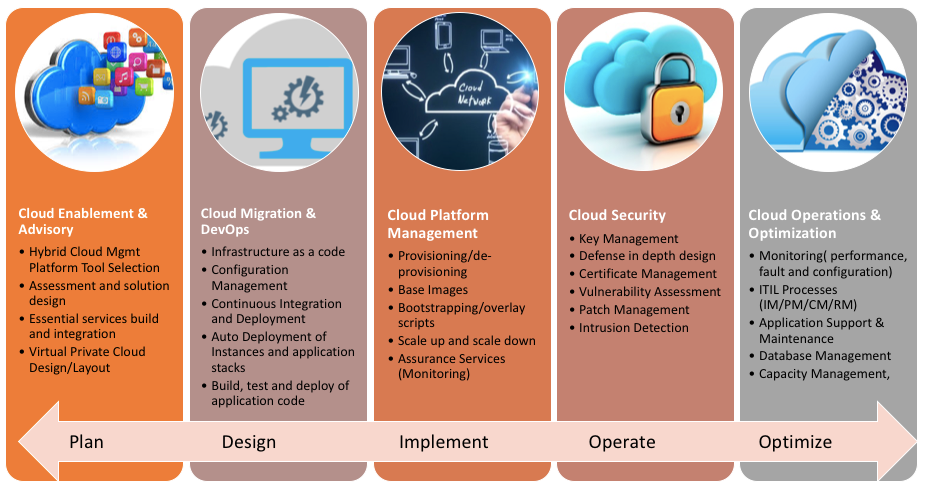 Cloud Enablement Services:
KRG's M2C framework has set of components and frameworks that help in economically and rapidly building, migrating and managing cloud-based applications that are secure, scalable, efficient and comply with all cloud-computing standards and protocols. EverestDx approach to Cloud Enablement ensures that organizations leverage the full benefits of operating in a public cloud environment.
Cloud Assessment:
KRG cloud consulting services help customers evaluate the cloud as part of their IT delivery strategy, pinpoint which applications can be migrated to the cloud, and identify which target operating models, processes, and technologies are required for using the cloud. Our cloud consulting services include cloud readiness and assessment services that help assist large enterprises and ISVs in adopting cloud technologies. With KRG's cloud consulting services, our clients can align their cloud computing strategy with their overall business strategy.
Cloud Migration Services:
Cloud technologies, especially application migration to the cloud have come to play a critical role in the new age business scenario. Consequently, KRG has created a complete bouquet of cloud migration services, cloud testing services, and a host of other application migration services. The cloud migration services include other proprietary tools and frameworks like cloud migration strategy, which provides a seamless transition for businesses looking to operate in the cloud. This spans everything from cloud migration planning to switching cloud environments. In the process, we optimize agility, security, high performance and improve the cost savings for our clients.
Cloud Management & Operations:
A globalized business environment has facilitated the rapid adoption of enterprise-level managed cloud operations, necessitating a robust cloud management infrastructure. As a leader in the realm of remote infrastructure services and cloud management, KRG understands the importance of seamlessly managing business applications via managed cloud services, in a cloud environment. For this, we have created a reliable managed cloud services delivery platform that eases the transition to standard, ITIL-aligned ITSM platforms, improves ROI from service delivery platforms, and optimizes infrastructure use and CAPEX.